GamesNostalgia welcomes the Commodore 64

By: Manu
Published: 16 December 2016, 10:08 am
In January 2017 Commodore 64 will be 35 years old! The first version of the famous 8-bit home computer, listed in the Guinness World Records as the highest-selling single computer model of all time, was presented at the Winter Consumer Electronics Show (CES), in January 1982.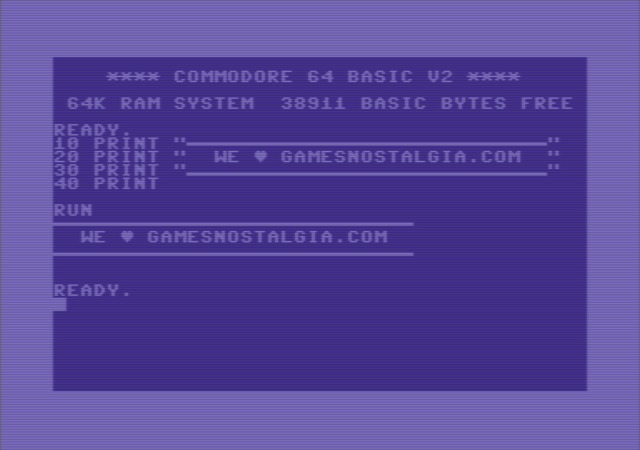 This model was created in just 6 weeks. There was a new chip developed by the MOS engineers, with superior video and sound capabilities. Jack Tramiel, the president of Commodore, refused to use this chip for arcade machines and instead he asked to create a new home computer, with 64kb of RAM (compared to the 4k available on the Vic-20) to be presented at CES. They did it, and the computer was so much better than any other competitor that the success was astonishing. The machine went into production immediately and it started being available in the stores in August. The rest is history, 17 mln models sold (someone say 30) with the highest peak in 1984. Funnily enough the C64 was still popular, especially in the UK, in the 1990s, when people could have bought an Amiga instead. The C64 was supposed to be discontinued in 1995, but Commodore filed for bankruptcy in 1994 (but this is a story for another post).
Thanks to its amazing state-of-the-art graphics and sound, the developer-friendly platform, and the huge user base, the Commodore 64 was the main target for game developers at the time. Approximately 10k games have been created for the C64. Titles such as Maniac Mansion, IK+, Archon, Elite, Bruce Lee, Impossible Mission, Winter Games, Boulder Dash, Pitstop II, Gyruss, Sentinel, Loderunner e many many others.
GamesNostalgia
started some time ago to add some
C64 games
, but the solution was not perfect. Besides, it was only working for PC, not Mac. Now we are finally able to announce that we have a pretty new solution, working for Mac and Windows. The only problem that we haven't been able to solve so far is the slowness during startup. This is probably due to the emulator (VICE) but there's an easy solution: just activate
Warp mode
(Alt+W on PC) until the game starts. After that you can deactivate the Warp mode.
Ghostbusters is the first game published with this new solution, but we are porting the old games too. You can try Little Computer People. For sure you can expect many more C64 games during 2017. And remember, PRESS PLAY ON TAPE :)