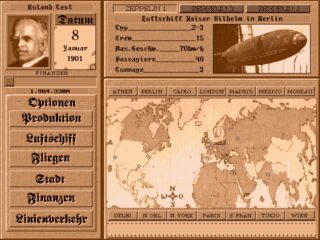 Author: Gustavo - Published: 7 November 2020, 7:09 am
Zeppelin: Giants of the Sky is a business simulation/strategy game developed by Ikarion and published by Microprose in 1995 for Amiga and MS-DOS. that puts you in charge of a Zeppelin company in 1900.
People who consider themselves "young adults" have an important role in the history of video games. We still remember the first games pretty fondly, but we are also looking forward to some of the latest releases. One could say that we saw it all... Or so I thought before I found out that there is a game about zeppelins. I´m not talking about a game with a zeppelin background or that the protagonist is obsessed with zeppelins, but a title based exclusively on them and their administration. For good or ill, this is Zeppelin: Giants of the Sky.