Author: Manu - Published: 11 January 2020, 5:30 am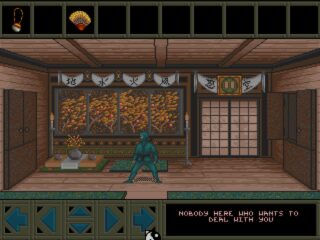 Sword of Honour is a beat-em-up action-adventure set in ancient Japan, where you impersonate a Ninja that has to regain the trust of his Shogun by recovering a sword.
The game was created by the small Swedish studio Dynafield, and it was released for Amiga and Commodore 64 in 1992, followed by a DOS version in 1993.
The comparison with The Last Ninja is almost mandatory, but first of all, there is a big difference: instead of the isometric view used by System 3 famous title, Sword of Honour uses a more traditional side-view, just like Budokan or IK+. But this doesn't mean that the game created Dynafield is a pure beat-em-up. On the contrary, the action-adventure component of Sword of Honour is even more developed. In fact, there are not only weapons to find in the game but also objects that you will need to use to solve puzzles.