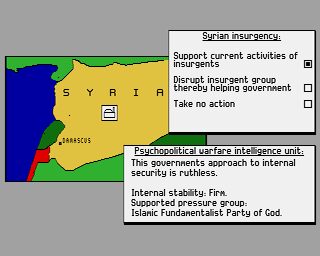 Author: Manu - Published: 14 November 2020, 9:06 am
Conflict: Middle East Political Simulator is a strategy game created by PSI Software published by Virgin Mastertronic in 1990 for PC, Amiga, and Atari ST.
In this quite original turn-based simulation set in 1997 (7 years in the future at the time), the game designer David Eastman imagines that the Israeli prime mister is killed and that the player takes his place. As you might know, the prime minister Yitzhak Rabin was really assassinated in 1995, so somehow the game predicted the future.
As the new pm, you will have to manage the complex situation with your neighbors: Egypt, Syria, Jordan, Lebanon, and the others. As in the real world, you have a powerful friend, the U.S., if you need help. You will need it because resources and budgets are limited, so your life won't be easy.