Discover the best retro games website: MS-DOS, Amiga and Windows 9x titles. Abandonware, freeware and classic games
Plus Commodore 64, Mega Drive, Atari 8-bit, MSX, Atari ST games and more
GamesNostalgia is a website entirely dedicated to retro gaming. All titles are already packed with the proper emulator and are ready to play on your PC or Mac.
If you are looking for Doom, Civilization, Dune II, Lemmings, Warcraft I and II, The Settlers; or maybe the great LucasArts adventures, the Ultima series, and other amazing games from the '80s and '90s, you'll find them here. Most of them are DOS or Amiga games, but we also have Windows, Commodore 64, Atari ST, and other systems. Enjoy the nostalgia!
Remember, GamesNostalgia it's not like other abandonware sites: we tested, configured, and packed all the games with the proper emulator so that you can run them immediately on your Windows or Mac computer. No need to install anything else, just play. Only GamesNostalgia does that, seriously!
Have a look at the most popular retro games or check the new arrivals. You can also browse the games database or read the latest stories about the best titles or the most celebrated game designers of the past.
Latest Games Reviewed: Shadoworlds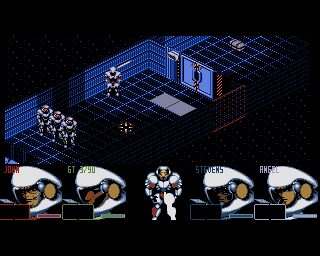 Author: Manu - Published: 31 January 2023, 9:01 pm
Shadoworlds is an RPG created by Krisalis/Teque and released in 1992 as a sequel to Shadowlands. It was published by Domark.
While the predecessor was a classic fantasy RPG with some Japanese influence, Shadoworlds is set in a post-apocalyptic sci-fi world.
If the settings are changed, the game engine, characterized by a technology called Photoscaping that allows dynamic lights and shadows, is still the same. So it should not be surprising that the gameplay still requires the players to find torches to see the environment. Having played and completed the game, I can say I enjoyed these mechanics a lot.
Read More