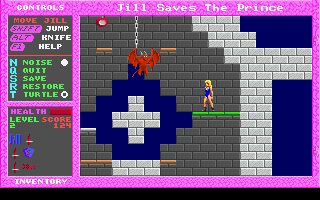 Author: Gustavo - Published: 23 September 2020, 6:34 am
Do you like retro video games, but you're sick of the same old hero saving the princess theme? Then get ready to meet Jill of the Jungle: Jill Saves the Prince, where now the female sprite saves the male one (stay with me, I promise it's more interesting than it looks).
The game was developed and distributed by Epic MegaGames in 1992. Yes, today is called Epic Games, the creators of Fortnite, Rocket League, and Unreal Tournament. Jill of the Jungle was developed for MS-DOS as a trilogy, in which Jill Saves the Prince was its last part.