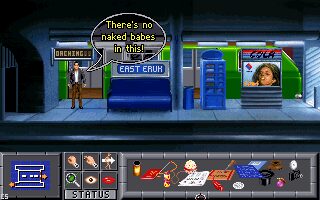 Author: Gustavo - Published: 14 November 2020, 9:53 am
Innocent Until Caught is a graphical sci-fi adventure developed by Divide By Zero and published by Psygnosis in 1993 for Amiga and MS-DOS.
I don't know about you, but every time I started a new graphical adventure game without knowing anything about it, I felt like I was flipping a coin. According to my perception, a bad story or specific details were the difference in whether the game is a masterpiece or a total failure. Today we will revisit Innocent Until Caught, a title that, despite having felt in the first minutes of the game that the coin fell on the wrong side, I end up liking.