Author: Manu - Published: 16 February 2020, 6:25 am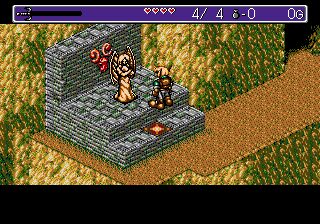 Landstalker: Treasure of King Nole is an action-adventure (+part RPG) with a Japanese flavor, created by Climax Entertainment for the Sega Genesis/Mega Drive and released in 1992.
Designed and directed by Kenji Orimo, Landstalker is very difficult to classify. It's mostly set inside dungeons, where our hero will have to defeat plenty of monsters. But it's not a hack & slash RPG. There are also towns and non-players characters to interact with, but the role-playing elements are very light. The story of Nigel and the nymph Friday, searching for the Treasure of King Nole, is a complex story, and the characters are very well defined. They are funny and smart, and you will fall in love with them. The character design is almost at the level of famous adventures such as Monkey Island.
Then you can add the platforming elements: Nigel can jump, climb ropes, and solve puzzles interacting with objects. At some points, you will think it's a platformer. In other words, it's a lovely mix.