Author: Manu - Published: 3 December 2019, 7:17 am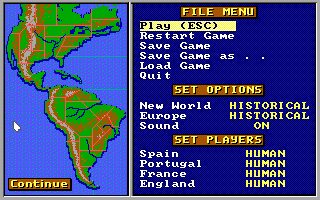 Gold of the Americas: The Conquest of the New World is a historical strategy/simulation game created by SSG in 1989 for MS-DOS, Atari ST, and Amiga.
Ian Trout, founder of Strategic Studies Group, and author of "Reach for the Stars" and "Decisive Battles of World War II", designed the game together with Stephen Hart.
The game allows up to 4 players, in a hot-seat mode, to control the powers that colonized America in the 16th century: Spain, England, France, and Portugal. If you don't have 3 friends with you, the computer will take care of the other factions. Beware because the AI is quite smart! You have 30 10-years turns to win the game by earning the highest number of colony points.