Legendary Game Designers: David Crane
Creator of Pitfall, Ghostbusters, Little Computer People and more

By: Tasha
Published: 7 October 2017, 9:55 am
Bringing you a double-dose of David, I bring you the tale of David Crane. This particular David is U.S. born and raised. He received his education from DeVry and graduated in 1975. Other than his contributions to the video game industry, which I will get to, David had a hand in several hardware products as well. While at Atari he would help design the operation system for the Atari 800. He would also create the Display Processor Chip and other innovations used in the gaming industry.
David began his gaming career programming and working for Atari. He was recruited from his original job at National Semiconductor by Alan Miller. David's first game at Atari would be a conversion of the arcade game Outlaw to the Atari 2600 in 1978, followed by another conversion for the Atari 2600 of the arcade Canyon Bomber in 1979. That same year David would release his first game, Slot Machine.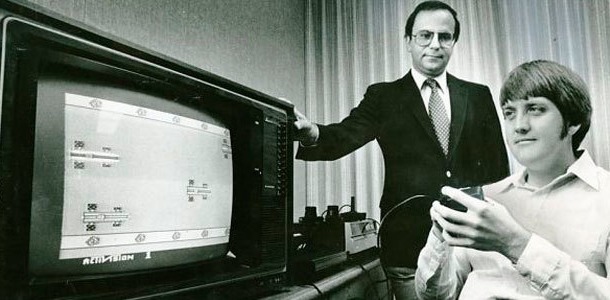 David would leave Atari in 1979 to form Activision with Alan Miller, Jim Levy, Bob Whitehead, and Larry Kaplan. This move sparked a legal controversy from Atari, who accused them of conspiracy to appropriate trade secrets. Thankfully in the end it worked out and Activision continued on. David cites wanting more recognition for his programming as a key reason that he let Atari to form Activision. Activision would focus more on crediting the programmers and would even include the names and photographs of the designers on a game's promotional materials. Another of David's complaints about Atari was that they just recycled the same arcade games rather than trying something new.
Activision would release their first game in 1980 called Dragster. As with most drag racers, the goal was to either beat your opponent to the finish line or beat the clock. Also that same year David would also release Fishing Derby. As the name would suggest the object of the game is fishing. Two fisherman on opposite docks are pitted against each other in a race to reach 99 pounds of fish first. Both games were for the Atari 2600, but Fishing Derby did a fair bit better upon release than Dragster did.
In 1981 David would release 3 titles all for the Atari 2600: Laser Blast, Freeway and Kaboom!. Laser Blast was a UFO flying game where the player attacked land based targets. Controlling your UFO armada, your goal is to destroy as much as you can and rack up points to get the high score. This would be the least successful game of the trio. Freeway is like Frogger, but with chickens. Two players, both playing as chickens, go head to head to see who can get across a ten-lane freeway first. The game did pretty well and even got an honorable mention at the annual Arkie Awards for "Most Innovative Game" in 1982.
Kaboom! is similar to the Atari game Avalanche. A crazy guy is dropping bombs and your goal is to use a bucket to catch them before they hit the ground. As the level progress, the bomber moves back and forth faster and faster. For each bomb missed, the player loses a bucket, lose them all the game is over. This title was pretty successful when it was released and sold more than one million copies worldwide. It even won an Arkie Award for "Best Audio-Visual Effects."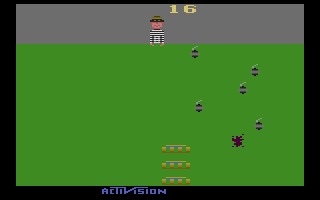 David Crane would create one of his better known games - Pitfall! - in 1982. Pitfall! is another one that I owned as a kid (quite after the fact, mind you). Playing as Harry, you need to traverse the jungle and gather treasure, while avoiding traps and obstacles. Though originally for the Atari 2600, the game was so successful it saw several ports and a sequel. It is one of the highest selling Atari 2600 games, selling more than 4 million copies worldwide and spending 64 weeks at the top of the Billboard charts.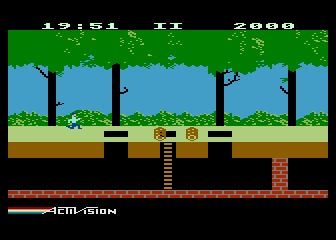 Pitfall! also took home "Game of the Year" in 1982. It is also credited with helping to define the side-scrolling genre. Interestingly, the commercial for the game featured actor Jack Black as a kid. In 2013 it was listed as one of the 10 best Atari 2600 games by Entertainment Weekly. I'd say it was a pretty good success.
Pitfall II: The Lost Caverns was released in 1984 and added several enhancements to the original concept and gameplay. This sequel offered a soundtrack, vertical scrolling, new animal enemies, and new characters. It was the most complex game ever created for the Atari 2600 and David had to add a custom hardware into the game cartridge to make all these features possible.
The porting to other platforms in some cases improved the game. Not many people know that in the Adventurer's Edition of Pitfall II, released for the Atari 5200 and 8-bit series, you can find an entirely new level created by the Atari version programmer Mike Lorenzen. The Lost Caverns was just as successful as the original, earning its fair share of accolades and awards. In 1985 SEGA purchased the license and released Pitfall II to arcade, changing the graphics to make it more "cartoonish".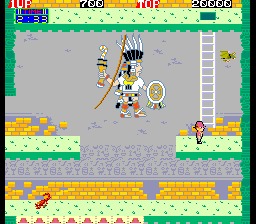 Also during 1982 David released a Formula One racing game called Grand Prix. This is another game I actually owned as a kid. At this time David had come up with a way to make large multicolored objects on the Atari 2600. David said that this new technique put him in mind of a Grand Prix race car and the idea was born. Your goal in Grand Prix is to have the best track time. You do have opponents, but they are more like road blocks than things you need to beat. Collision with opposing cars lowers your speed and screws your time.
The game features 4 different race tracks: Watkins Glen, Brands Hatch, Le Mans, and Monaco. All the tracks are named after real places that hosted the real life Grand Prix races, but they are not modeled after their namesake tracks. Unfortunately, Grand Prix was nowhere near as successful as Pitfall had been, but I still loved it.
David Crane would go on to create The Activision Decathlon in 1983. Using events as seen in the Olympics to create a decathlon where one to four players can compete. The player with the most points takes home the gold, of course. The game did very well when it was released and won multiple sports gaming awards. It also stayed within the top 20 games for more than a year.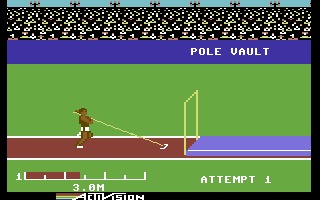 In the last few years before David left Activision he would make another 2 of his most popular games, Ghostbusters (1984) and Little Computer People (1985). Ghostbusters is an action game based off the movie. Like in the movie, you must stop all the ghosts before they gather enough energy to resurrect Gozer. To do this you must look at a map of the city, plot a course to the disturbance, and catch any ghosts you see along the way as you drive. Once you arrive at the scene of the problem, the Ghostbusters will then take to foot to capture the ghosts using their proton packs and floor traps. If the ghostbusting is successful, the player gains money that can then be used for improvements to ghost catching equipment and vehicles. Ghostbusters was wildly successful and had good sales in the U.S., Europe, and Japan and was the company's best selling Commodore 64 game.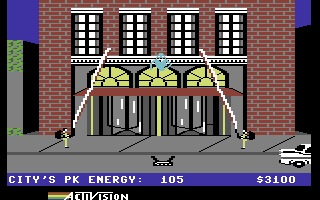 Little Computer People is a simulation game where a little person lives inside your computer. Definitely an early precursor to games like The Sims. Starting out you have a view of a three-story home and a little person moves in. This person is randomly generated and not the same for everyone. It was always a male save for in the Japanese version of the game. Your little person goes about their day-to-day lives, but you can play poker with them and give them gifts. You also have simple commands that you can input like "feed dog" or "write me a letter." When your person writes you a letter it contains their thoughts or feelings about their home or life. The game was incredibly well-received and won several awards, like "Most Innovative Program."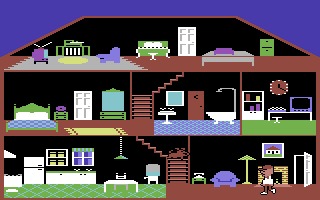 David Crane would leave Activision in 1986 to co-found the company Absolute Entertainment with Garry Kitchen. He would create a few games like Transformers: The Battle to Save the Earth for the Commodore 64, Skate Boardin' for Atari 2600 and Super Skate Boardin' for Atari 7800.
In 1989 David released A Boy and His Blob: Trouble on Blobolonia for the Nintendo Entertainment System (NES). Yet another one I had as a kid. Apparently I was a big David Crane fan and didn't even know it. In this platform adventure game, you play as a boy on a quest to help his pet blob save his home planet. To do this the boy must feed the blob different types of jelly beans that make the blob take on different, more useful forms. Funny fact: the animation of the boy is exactly the same you can see in Pitfall! and The Activision Decathlon. The game was pretty successful and snagged up multiple awards including "Best in Show" and the "Parent's Choice Award." The game saw a few sequels and remakes over the years.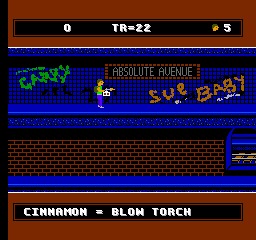 The sequel The Rescue of Princess Blobette was released in 1990 for the Game Boy and it did decently well. There has also been remake from other companies called simply A Boy and His Blob in 2009, and it has been ported to more modern consoles like the PS4 in 2016.
David worked on 3 Simpsons based games in 1991 following the misadventures of the infamous Bart Simpson himself: The Simpsons: Bart vs The Space Mutants, The Simpsons: Bart vs. The World, and Bart Simpson's Escape from Camp Deadly. He personally programmed the last one, released for Game Boy only.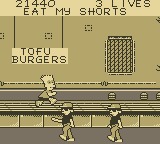 David would also create many more games, including David Crane's Amazing Tennis (avid tennis player that he is/was) before the dissolution of Absolute Entertainment in 1995. That same year David would co-found yet another company with Garry Kitchen, Skyworks.
In 2006 David did the game design and character simulation of March of the Penguins, a game officially based on the documentary, developed by Skyworks for the Game Boy Advance and Nintendo DS.
David Crane has enjoyed one of the most successful careers of any game designer and this has earned his many industry awards like the first ever Pioneer Award, among others. The amount of games he has designed and, in most cases, programmed, is impressive. He created masterpieces for Atari 2600 and Commodore 64, but his titles also left a mark on the Game Boy, NES, Amiga and other systems. Not many game creators can say the same. Well done David!
If you would like to play one of the games mentioned here and you cannot find it on Games Nostalgia, leave a comment below.