Autor: Tasha - Posted: 31 July 2018, 6:30 pm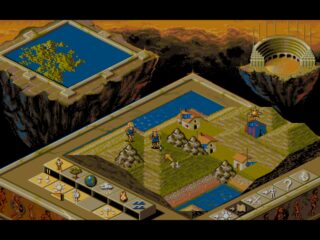 Populous II: Trials of the Olympian Gods is a sandbox "god" game developed by Bullfrog Productions and published by Electronic Arts (EA) in 1991 for the Amiga.
It has since been ported to several other platforms including Atari ST, SNES, MAC, and Windows. This is the sequel to the original Populous also created by Bullfrog and published by EA.
Populous II takes place on a backdrop of Greek Mythology. You play as one of Zeus' many mortal children. Because everyone knows Zeus doesn't know how to keep it in his pants. Like many of his children, you're angry at Zeus and your goal is to battle your way through all the gods and take him down. Battling across multiple maps, you will have to amass followers and become strong enough to defeat the gods. Much like the first one, you need to alter the landscape to make it more livable for your followers and allow them to build and multiply. Populous II allows you to use a larger array of god powers to kill the opposing god's followers and destroy their cities. You can also endow one of your followers with the power of the gods and have them do your bidding.