Autor: Manu - Posted: 11 November 2018, 5:14 pm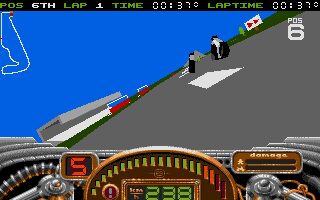 No Second Prize is a superbike racing sim for Amiga and Atari ST created by Thalion Software and released in 1992.
Designed by Erik Simon, the game features fast 3D graphics based on filled polygons, thanks to the routines written by the excellent programmer Chris Jungen. The game was running smoothly even on a standard Amiga 500.
The game allows you to choose between 6 different races and 20 different tracks. One of the best features of the game is the mouse-based control, that allows very precise movements of the motorcycle with extreme simplicity.