Autor: Manu - Posted: 2 June 2018, 2:13 pm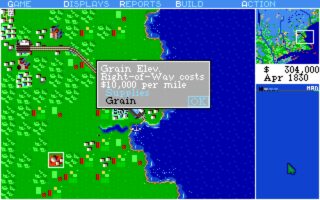 Sid Meier's Railroad Tycoon (or, simply, Railroad Tycoon) is a trains management and business sim created by MPS Labs and released by Microprose in 1990 for MS-DOS and Amiga. In 1991 it was ported to Atari ST and Macintosh.
The game was conceived by legendary designer Sid Meier with Bruce Shelley, the duo that would create, one year later, the famous turn-based strategy masterpiece: Civilization.
In Railroad Tycoon you are the boss of a new company, during the Golden Age of Railroads, with the goal of building an efficient and profitable trains network. You will have to construct stations, buy the locomotives, decide what kind of wagons attach to the trains (passengers, mail or freight). You can also build industries to maximize profits, and even invest in the stock market, a lovely touch to the game. When the technology advances, you need to update the engines and retire the old ones, keeping your network fast and efficient.