Autor: Manu - Posted: 6 June 2018, 9:54 am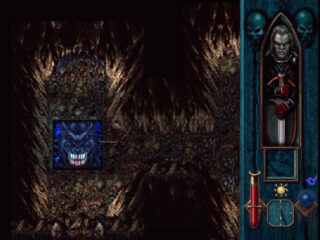 Blood Omen: Legacy of Kain was developed by Silicon Knights and published by Crystal Dynamics. It was first released for the PlayStation in 1996. The Windows port was made by Semi Logic Entertainments and released by Crystal Dynamics in 1997.
Blood Omen is the first title out of six in the Legacy of Kain series that spawned between 1996 and 2003. It is a successful 2D action-adventure with RPG elements, featuring very high quality of voice acting, story, and visuals for its time; it sold more than 2 million copies.
In Blood Omen: Legacy of Kain, you take control of the vampire Kain, a former nobleman who was brutally murdered by assassins. Kain travels the realm, seeking revenge by slaughtering and sucking blood from the corrupt oligarchy of sorcerers in the land of Nosgoth hoping to discover a cure for his vampirism.