Autor: Manu - Posted: 12 February 2019, 3:12 pm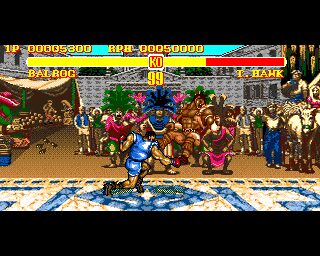 Super Street Fighter II: The New Challengers (or simply Super Street Fighter 2) is the fourth chapter of the popular series of beat-em-ups based on the Street Fighter II arcade created by Capcom. It's the first to use "Super" in the title.
The arcade version was released in 1993, while the Mega Drive/Genesis, SNES, FM Towns versions were created in 1994. In 1995, Capcom published the Amiga AGA version, developed by Freestyle.
Unsurprisingly, considering the title "The New Challengers", Super SF2 introduces 4 new characters: Cammy, a young member of the English special forces, Fei Long, a Chinese martial arts movie star (in case you are wondering, yes, it looks like Bruce Lee), T. Hawk, a Mexican indigenous warrior, and Dee Jay, a Jamaican kickboxing master. There are also new special moves for Ryu, Ken, Zangief, and Mr. Bison.