Author: Manu - Published: 23 March 2019, 4:45 am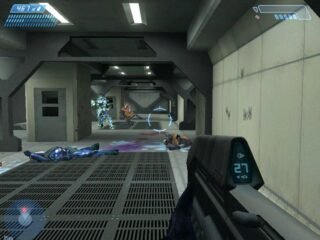 Halo: Combat Evolved is a sci-fi first-person shooter created by Bungie Studios for Microsoft and released for the Xbox in 2001, then ported to Windows and Macintosh by GearBox in 2003.
We usually publish games that are at least 20 years old, but this time we made an exception. After so many requests, since the game is currently not available on GOG or Steam, we decided to make this gift for all the fans of GamesNostalgia. You can now play Halo, one of the best games ever created, the game made the Xbox a success.
The Windows version includes Patch 1.0.10; it supports modern video cards and all kind of screen resolutions. It works on Windows 7/10, and GameSpy support is removed (since it's not active anymore). Just run the setup and install the game. That's it.