Discover the best retro games website: MS-DOS, Amiga and Windows 9x titles. Abandonware, freeware and classic games
Plus Commodore 64, Mega Drive, Atari 8-bit, MSX, Atari ST games and more
GamesNostalgia is a website entirely dedicated to retro gaming. All titles are already packed with the proper emulator and are ready to play on your PC or Mac.
If you are looking for Doom, Civilization, Dune II, Lemmings, Warcraft I and II, The Settlers; or maybe the great LucasArts adventures, the Ultima series, and other amazing games from the '80s and '90s, you'll find them here. Most of them are DOS or Amiga games, but we also have Windows, Commodore 64, Atari ST, and other systems. Enjoy the nostalgia!
Remember, GamesNostalgia it's not like other abandonware sites: we tested, configured, and packed all the games with the proper emulator so that you can run them immediately on your Windows or Mac computer. No need to install anything else, just play. Only GamesNostalgia does that, seriously!
Have a look at the most popular retro games or check the new arrivals. You can also browse the games database or read the latest stories about the best titles or the most celebrated game designers of the past.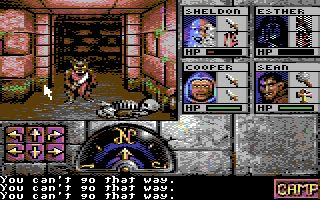 Author: Manu - Published: 19 February 2023, 2:45 pm
Eye of the Beholder C64/128 is an incredible unofficial conversion for the Commodore 64 and 128 of the famous dungeon crawler Eye of the Beholder.
The original RPG Eye of the Beholder was released in 1991 for the Amiga and MS-DOS. The masterpiece created by Westwood Associates was never ported to the Commodore 64, but a group of enthusiasts led by Andreas (JackAsser) Larsson succeeded where the original developers failed. The result is astonishing, so good you won't miss the 16-bit versions.
The first attempts to port the game to C64 started in 2006, but due to the complexity, it was dropped in 2009. Some years later, in 2018, after having ported the game to iOS, Andreas decided to retry with the C64 version. Ilesj, Mirage, and Oliver Lindau helped with the graphics. It took four years to finish the game: in November 2022, Eye of the Beholder C64 was ready and an absolute marvel. The mechanics have been replicated perfectly; the graphics are the best you have ever seen on a C64 game; the SID music written by Sascha Zeidler is also excellent.
Read More