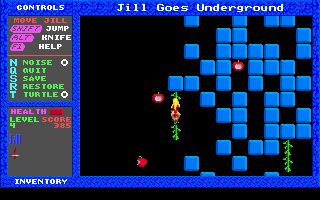 Author: Gustavo - Published: 25 September 2021, 12:36 pm
Jill of the Jungle: Jill Goes Underground is the second chapter of the Jill of the Jungle trilogy, a series of side-scroller platform games designed to compete with [Duke Nukem] and [Commander Keen]. It was released in 1992 for MS-DOS only.
Today it's time to review another of the first significant female figures in video games that are not just there to be rescued by the male protagonist. Will the second chapter of the franchise be as good as the first? Will it be an improvement on the original, considering how close they were released? Let's find out together.