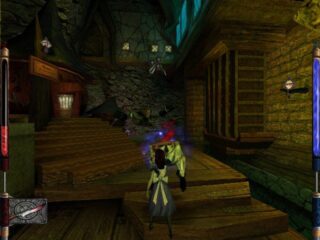 Author: Gustavo - Published: 25 June 2020, 2:31 pm
American McGee's Alice is a third-person action-adventure developed by Rogue Entertainment and published by Electronic Arts in 2000.
This entry is named after its renowned director and designer, American James McGee, who also worked on the Doom, Wolfenstein, Hexen, and Quake sagas. Also, he was in charge of directing the highly successful sequel Alice: Madness returns and is currently working on the third part called Alice: Asylum.
The game is based on Alice's Adventures in Wonderland and Through the Looking-Glass, novels written by Lewis Caroll in 1865 and 1871. Unlike the lighthearted tone of the source texts, this version has a much darker setting. Shortly after the original story, Alice is the sole survivor of a mysterious fire that takes her family and home, making her an orphan. This strongly traumatizes the protagonist, who enters a deep depressive well and becomes catatonic. She is later taken to the Rutledge psychiatric hospital, where she is constantly abused by its workers.